When your music collection grows past a certain point, maintaining it becomes an activity distinct from listening to it — almost a hobby in its own right. This is nothing new. As Nick Hornby so ably depicted in High Fidelity, organizing and fussing over one's music collection has several purposes, the least important of which is to arrange in an orderly manner one's LPs on a shelf: it's partly therapeutic, partly cathartic, and in a weird way an assertion of one's self, a statement about what you value. An FBI profiler could probably draw a fairly accurate psychological profile of you by closely analyzing how you organized your music.
Many diehard music listeners today continue to curate a substantial collection of vinyl LPs, or else went back to vinyl after it began to resurge a few years ago. Not me. I am firmly of the digital age — in fact, the primary reason I became so finicky and exacting about my music was the sense of empowerment digital music grants you. It's not that I can carry nearly my entire collection in a device the size of my wallet; I'm so used to that I expect nothing less. It's that all this wonderful stuff is lying supine and exposed in iTunes, where I can manipulate it at will. A vinyl record is fixed, a physical artifact; a digital song is an assemblage of bits, malleable and subject to whim. Most people who buy songs from iTunes or Amazon probably don't even stop to consider the awesome power literally at their fingertips. You can name anything anything you want, sequence it in any way you want. You can put Sergeant Pepper in its original running order, so that side 1 ends with "She's Leaving Home," or reconstruct Infidels to include "Blind Willie McTell" instead of "Neighborhood Bully." Whether you're the type to take such liberties or not, programs like iTunes allow you to get your music right — to tend it with as much care and respect for detail as you like. As I suggested above, how far you take this practice depends on, and reveals a lot about, who you are. To illustrate, let me show you a few of my common MP3 hoarding practices.
1. Always set Sort Artist to "Lastname, Firstname"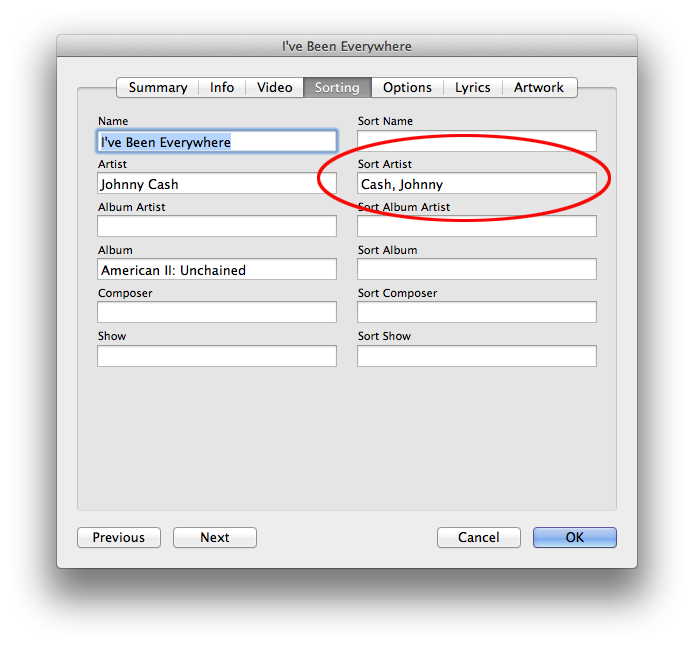 It amazes me that more people don't do this. Well, actually it doesn't amaze me because it's kind of a pain in the ass to alter nearly every single thing that goes in your music library. I guess what amazes me is that not doing it doesn't bug everyone else as much as it bugs me. Johnny Cash should not appear under J, he should appear under C. That's so fundamental that to flout it feels like spitting in the face of logic itself.
2. Add cover art to my imported tracks
This is pretty obvious, and a lot of people probably do this. I believe iTunes will even do it for you, though I would never entrust iTunes with so exacting a task. But here's something not everybody does:
3. Add separate cover art to mono and stereo releases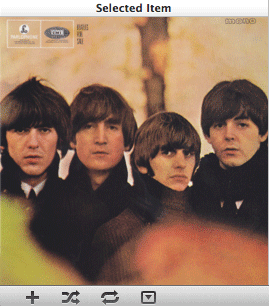 Well, because they're different, goddamn it.
4. Add individual years to every track in a multi-year compilation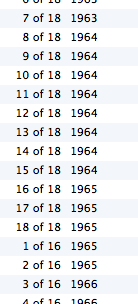 To be honest, I've only done this with a few such compilations in my library so far, because as pains in the asses go, this one is on a par with re-grouting your bathroom, which I have never done and which sounds only slightly less bothersome than simply replacing the entire bathroom. Even if I know the artist's work pretty well already, I usually don't know it enough to reel off the year each song was released with perfect accuracy, necessitating many, many visits to Wikipedia to fill these little tags in. What makes it worthwhile? The fact that I can generate a smart playlist of songs from a given year and know with certainty that each of those songs came out in that year, regardless of when some record company decided to slap them together and reissue them for a quick buck. Don't you wish you were me right now?
5. Maintain consistent spellings of artists' names
Anyone with even a few, er, alternatively acquired music tracks understands that people who share music files don't spell any better than anyone else who uses the Internet. Fixing them sounds like a no-brainer, but I'm constantly surprised when I look at friends' iPods and see that in addition to, say, the Rolling Stones, they'll have tracks by Rolling Stones (no definite article), Roling Stones, Rolling Stone, Stones, or the subtle but ever-popular "Rolling Stones ," wherein an unobtrusive extra space at the end registers in iTunes' primitive cerebrum as a distinct artist. This kind of stuff can make an iPod damn near unusable to my mind. How do people stand it?
6. Distinguish between albums by Paul McCartney, Wings, and Paul McCartney and Wings.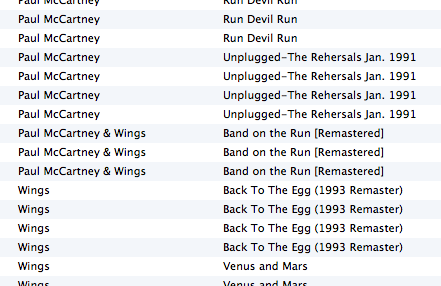 Goddamn it, they're different.
(At this point, our hypothetical FBI profiler is jotting in his notebook: Low anxiety threshold. Feelings of lack of control, helplessness.)
Now, lest you think I've gone completely off the cliff, there are some organizational behaviors that are too nit-picky and anal retentive even for me. These include:
1. Filing Ram under "Paul and Linda McCartney"

The only reason Macca gave his wife label credit on this one is that he was being sued by Allen Klein and his assets were frozen; giving Linda half the album was the only way to bring any money into the McCartney household. As fun and quirky a bit of trivia as this is, I don't see the need to enshrine it in my album collection. (Side note: at the last Paul McCartney concert I attended, he dedicated "Too Many People," the lead track from this album, "to all the Wings fans." Does McCartney really not remember, or care, which of his albums were Wings and which weren't?)
2. Filling in the Composer tag
This is no less geeky a thing than a lot of other things I actually do, but I've just never gone here. Maybe one day I'll think to myself, "I wish I could make a smart playlist of all the Holland-Dozier-Holland songs that begin with a hard consonant." Until that day, this field can stay blank.
3. Filing Elvis Costello's King of America under "The Costello Show"
What am I, crazy?
4. Filling in the Beats per Minute tag
I guess this is a big thing for people who exercise. I wouldn't know anything about that. I think I might get around to something like this if the day somehow became four or five hours longer.
So there you have it. Don't be afraid to stick your head down the music-nerd rabbit hole for a while. Take control of your music. Sort it, catalog it, clean it up and fiddle with it. Just remember: Band on the Run is by "Paul McCartney & Wings." That's very important. Don't ask me why — it just is.