Conservatives don't like things that liberals like. That's not surprising, nor is it surprising that the reverse pretty well applies: liberals don't like things that conservatives like. Where the difference starts to creep in is that conservatives seem more likely to take this stance to its next logical step: going out of their way to do things that liberals don't like, solely because liberals don't like them — even if doing that thing ultimately harms them.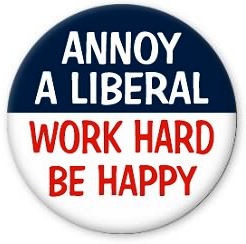 For instance, there was a great deal of attention given recently to a study that tried to persuade people to reduce their energy usage at home. Notices were sent to the highest-consuming households with gentle suggestions that the household in question could do better in conserving energy. The study found that Democratic households were likely to reduce their usage in response; Republican ones, by contrast, were likely to increase it. As noted in the linked article, Rush Limbaugh even encouraged his listeners to turn on all of their lights during Earth Hour, a gesture that certainly cost his audience many thousands of dollars in wasted utility spending. Glenn Beck told his audience not merely to refrain from using their own grocery bags, but to use as much plastic as possible. That'll show us tree huggers!
It is a commonplace among conservatives that liberals are bereft of humor and joy, hate individual liberty and derive their sole pleasure from curtailing other people's happiness. A popular conservative slogan goes "Annoy a Liberal: Work Hard and Be Happy." As a liberal myself, I think it's only fair to confess that this supposition is true. At our secret monthly meetings (which we totally have, usually in mosques or Whole Foods stores), my fellow liberals and I like to swap stories about the various successes we have had in jealously undermining the successful and the hard-working, persuading women to have abortions and redistributing as much of America's material wealth to undeserving poor and minority households as possible. We like to strategize about which decadent cultural practice we ought to demonize next: how about off-roading, or fishing? And we speak of the true ache in our hearts when we contemplate those who are prosperous and happy, and who bear the lowest tax burden of nearly anyone in the First World. It is our mission to destroy such comforts, and we will get there one day, Dawkins willing.
At any rate, in the spirit of free discussion, I would like to confess on behalf of my fellow liberals several other activities we liberals hate, and which our conservative countrymen may feel compelled to adopt.
1. Punching Yourself in the Face
As a liberal, my reflexive compassion compels me to help people whether they want it or not. Were I to see a successful American savagely pummel his own mug into swollen, eggplant-like mush in defiance of my touchy-feely values, I would want to see him restrained, evaluated and possibly commited for his own protection. You're not going to just let me get away with that, are you?
2. Setting Fire to $100 Bills
Little-known fact: the smoke from burning American currency is actually deadly to liberals, and the higher the denomination, the more toxic the fumes. If you were to bring a $5,000 bill to a David Sedaris reading and set it on fire, you would kill most of the audience in the space of a few seconds. You probably don't have a $5,000 bill, so an equivalent amount of Benjamins would probably do the trick (I haven't actually tried it).
3. Giving Away All of Your Possessions to a Poor Family
Hey, it's the government's job to confiscate your wealth and redistribute it! Stop that!
I offer these suggestions in the hope that my conservative countrymen will make reasoned decisions based on what is actually good for them, rather than what they imagine to be bad for someone else. If that doesn't work, well, maybe someone will actually punch himself in the face, which would be kind of funny. Glenn Beck, care to take this one up?