In these uncertain economic times, your firm needs every kind of advantage on its side — not merely a strong balance sheet and efficient supply chain management, but a potent psychological edge. You need someone whose very presence communicates strength and competence to employees, partners and competitors alike. You need someone like me.
I am a suit.
I will sit at a conference table or at an elegant luncheon, in my suit, quietly radiating calm, authority and steely reserve. Leaning back in my chair at the appropriate angle, my fingers curled under my chin, I will take in everything said around me, nodding or simply fixing the speaker with a respectful and attentive gaze. At meetings, I will take notes on a legal pad tucked into a rich leather portfolio, using a Waterman pen with my initials engraved on the barrel. My handwriting is bold and angular, stylish while still preserving legibility, and you will notice how decisively I underline my major headings.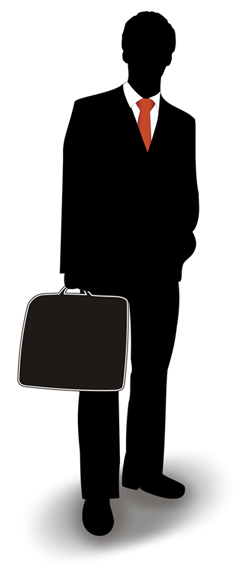 At no point will I pull out a Blackberry and begin typing on it — I do not own one, and my Louis Vuitton briefcase contains no laptop. (I am available with an optional laptop-bearing assistant; please speak to me for details.) Instead you will find a region-appropriate copy of Crain's; my Kindle; several neat file folders containing documents of obscure but impressive purpose; a pair of Prada men's sunglasses in a black leather case; a Netflix envelope, sealed and ready for mailing (Ratatouille, I explain with a smile; my daughter loves anything Pixar, and we ought to just buy the movie for all the times she's seen it but we don't like to use the TV as a babysitter); and my portfolio and pen, should I not be working with them.
I may, in a lighter moment that illustrates my humanity and approachability, show you a photo of my wife and aforementioned young daughter on my iPhone. Their names are Marisol and Kendall, respectively. I will humbly thank you when you tell me how beautiful they both are and then make a self-deprecating remark about my daughter inheriting her looks from her mother. We will both know I am lying; I am a gorgeous man, with captivating hazel eyes, unblemished skin and a jaw like the prow of a yacht.
I will politely deflect all other inquiries into my background and history. As far as you are concerned, I am a man from nowhere, a blank slate, an abstraction made flesh. (I am available with a full background, including university associations and professional organizations, for a modest upgrade charge.)
My suit itself? Contemporary and elegant, with a cool slate-grey hue, stylish lines that accentuate my physique (I work out rigorously and have a resting pulse rate of 45) and a subtle texture to the weave that you may well find yourself admiring during our many conferences, in moments when I happen not to be speaking. My silk tie is custom-made and tied in a flawless, bullet-hard Shelby knot; other knot styles up to and including a full Windsor can be accommodated on request.
As far as my handshake is concerned, I have a grip like a tiger shark's jaws and can split walnuts between my fingers — did I not assure you that I work out? In addition to my full regimen of cardio, weights and resistance training, I also study Jeet Kune Do, the fighting system devised by the late Bruce Lee. This training allows me to precisely attenuate my handshake to communicate fellowship, encouragement or menace as appropriate to the situation. Without even speaking I can assure the lowliest hourly employee that I am firmly on his or her side; let a supplier know that he is in for toughest negotiation of his life; or so frighten an opposing counsel that his balls shrivel between his sweating thighs like a puppy cowering before a rolled newspaper.
As we work more closely together over the days and weeks, you come to appreciate the awesome intellectual resources I can command, along with my willingness to put them completely at your disposal. Soon I will begin finishing your sentences for you, and then speaking your thoughts before you have a chance to utter them. Days rush by in a blur as achievements you had previously dismissed as impossible suddenly appear tantalizingly close. You notice I never appear nervous and rarely blink. Dimly, you begin to understand that I am capable of doing, and actually may have done, terrible things. You will be grateful I am on your side.
My fingernails are immaculate, my hair perfectly in place. My wristwatch is rated to a depth of 400 fathoms as well as the vacuum of space. My shoes glisten like the hood of a black Ferrari. And I can be yours for a surprisingly modest fee. After all, what price is too high to surpass your ambitions, redraw the competitive landscape and leave your opponents broken in the dust? Contact me today for a quote.
(References available upon request.)